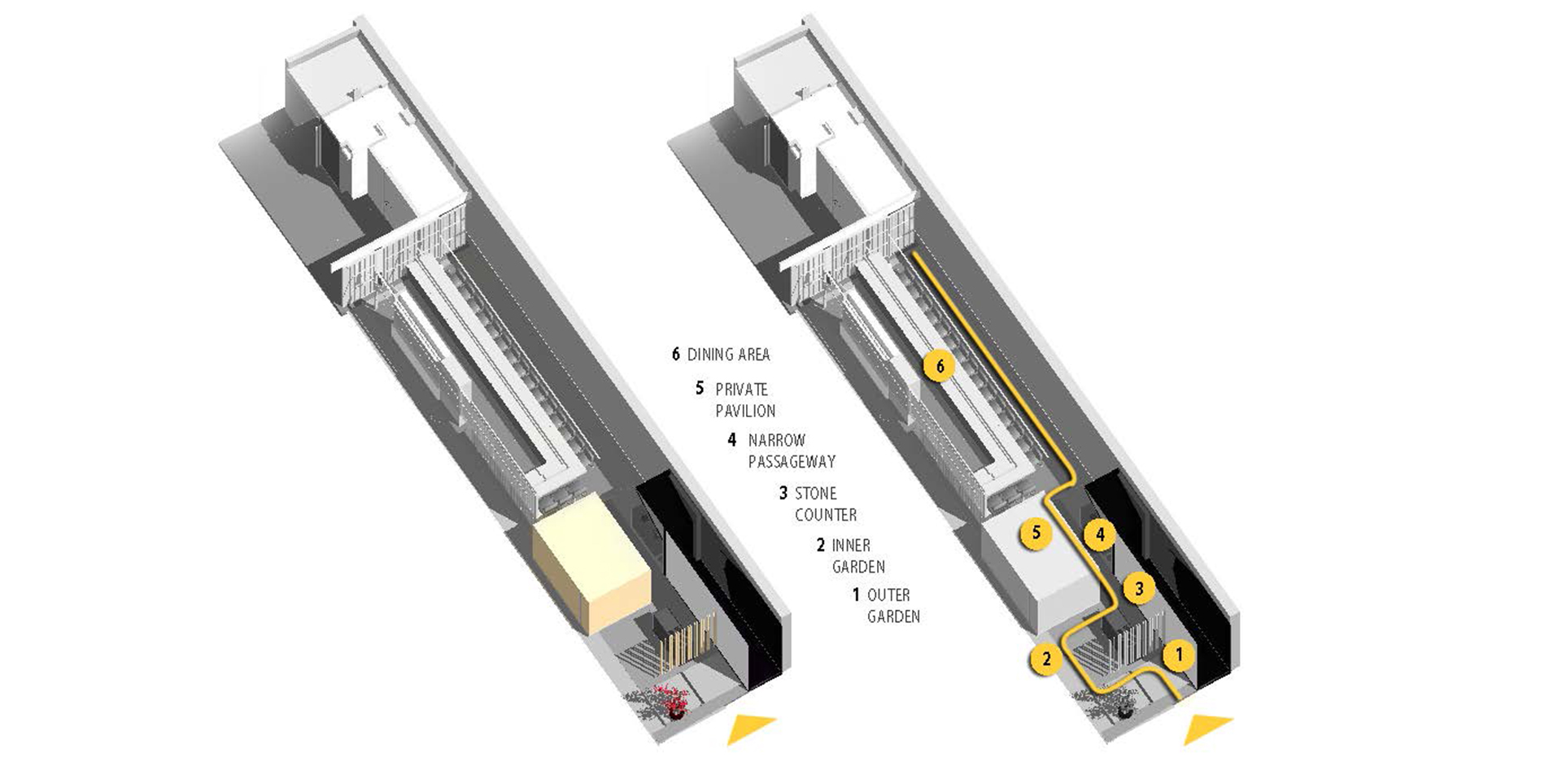 Size: approx. 150 sqm
Status: Completed 2013
Sushi Mitsuya is a Japanese niche restaurant where food is served omakase-style and caters to a select group of customers at any one time. The restaurant is helmed by a master chef who decides the menu, prepares the sushi in front of his customers and serves the guests directly. A sense of intimacy is fostered between the 'host' chef and 'guest' customers and a fine appreciation of the food ensues.

The traditional Japanese tea ceremony is employed as a metaphor in the creation of spaces in this restaurant, as both the tea ceremony and the omakase-style restaurant celebrate the fine art of the tea / food preparation.
In the Japanese tea ceremony, the guest passes through a series of spaces and events that allows him to symbolically leave the external world to focus on the art of drinking tea. Firstly, the guests have to walk through a garden through well-placed stepping stones, cross a fence into an inner garden where they are ceremonially cleansed at a stone basin, before they enter through a small narrow opening into the tea house. Once inside the tea house, there are few small openings to the outside, and the occupants are able to focus on the ceremony and the people within, and to enjoy the precious moment spent together.

In a similar vein, a sequence of spaces is created for customers entering the Japanese restaurant. Here, the entrance foyer is demarcated by a series of loose granite slabs and a large Sakura tree. This garden foyer space is separated from the sake counter via a hanging timber fence. The customers are served sake on a stone block while their meal is being prepared. After which, they pass through a curtain, a narrow corridor and into the dining area. This process is an act of separating from the 'external world', preparing the customer to focus on the dining experience.

The design language is based on traditional Japanese elements, but the forms are intentionally more contemporary. The private room, a pavilion, becomes a floating shoji screen box; the main dining area a space shaped by floating planes made of shoji screens, timber walls and timber framed panels.
The POS counter and Sake counter are constructed in flamed granite. The main dining table is constructed of solid Hinoki timber which produces a natural fragrance, adding to the relaxing and calm sense created by the materials selected.

Given the opportunity to do this project within a shophouse unit, something of historical worth, we sought to keep the existing space 'as it is' instead of covering it up. As such, a singular material covers the shophouse walls from the front to the back, and the dining areas are expressed as separate forms within the shophouse space. The floors and ceilings of the dining pavilions are set off from the party walls and the 'garden' wraps around the edges. The separation of forms is further emphasized using lights.
BROWSE FEATURED PROJECTS