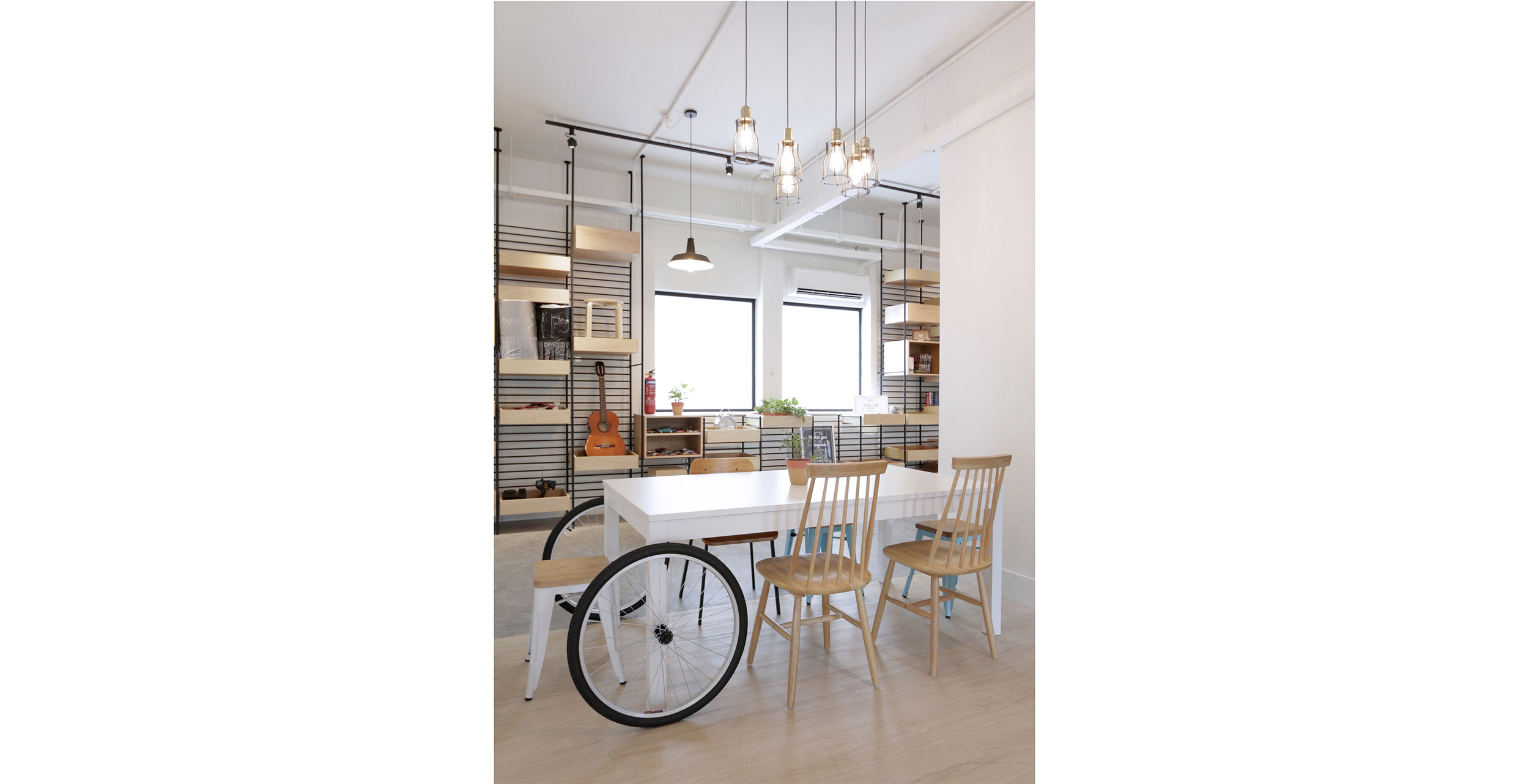 Size: 270 sqm
Status: Completed 2015
Singapore Children's Society is a charitable organisation which looks after the welfare of children. It started out as an organisation which protects the physical, emotional and mental well-being of disadvantaged children. VOX is their latest youth centre which provides a base for the society to outreach the youth in the Chai Chee region.

Our design questions if youth centre spaces are too institutionalised and explores the possibility of elevating these spaces for the disadvantaged youth and destigmatising such programs. The success of the organisation also depended on their ability to attract and draw in these youths to participate in their programs. We felt that the typical youth centre design which is a merely a room with spaces for activities might not have the necessary drawing power. We sought to create a space that has nice ambience, suitable for casual socialising, fun and desirable to go to. For these reasons, we chose to refer to "hipster cafe" spaces. This is aligned with the market survey conducted by the clients, which concluded the youths' preference for cafe-like environments. The use of raw finishes like screed flooring, plywood, brickwalls, rebars, black metal frames, exposed electrical pipings etc not only helped to reduce the finishing cost, but also gave the space an edgier and casual ambience. Pendant lights and spotlights provide the necessary ambient lighting, even though the space is filled with natural daylight filtering in through strategically positioned framed in black steel glass windows.

We created a "bar counter" area, which serves as a place where the youths can chat casually with the organisation's staff over a drink, providing opportunities for staff-youth interactions. The "Exploration Hall" is a wall with open shelves where musical items, games, sports equipment etc are displayed for the youth to self-explore and hopefully discover themselves. The activity hall is accompanied by a double decker loft space with fun and cosy niches for small group interactions. Loose furniture are fitted with wheels with the intention to allow the organisation to move out of the centre and set up booths whereby they can engage other youths. An outdoor seating space provides a welcoming corner for the residents from the HDB blocks to gather, allowing the youths to interact with them and for activities that the centre may conduct to engage their neighbourhood.
BROWSE FEATURED PROJECTS